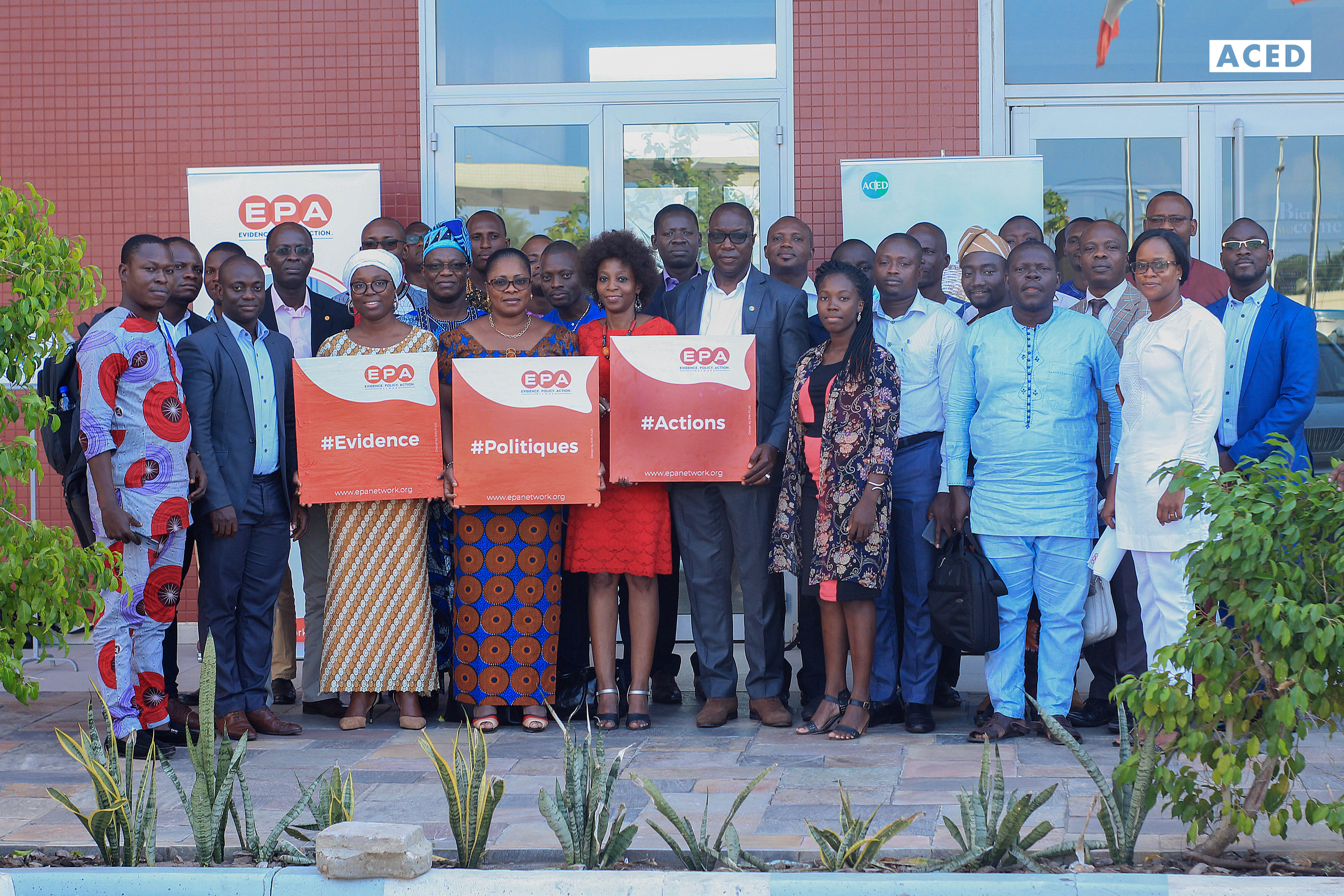 In Benin, the Evidence-Policy-Action (EPA) Network is established to create a functional and multi-stakeholders' platform between evidence generators (researchers, data specialists, consultants, citizens, etc.) and users of evidence (policy makers, practitioners, etc.). During 17-18 October 2019, the EPA Network will organize the EPA Forum, the largest national platform that brings together researchers, data specialists, evaluation experts, policymakers, practitioners and grassroots people to advance evidence use in policy and practice in Benin.
Policymakers of developing countries are constantly in a dilemma of making tough policy decisions to face important challenges such as food and nutrition security in a context of scarce resources. There is a growing recognition that policymakers can effectively navigate these decisions and achieve substantially better results if rigorous evidence (research, data, evaluation) is mainstreamed into the policymaking process. Unfortunately, in many developing countries and, in particular, Benin, the introduction of evidence into the process of decision-making is challenging due to the lack of interoperability between the evidence-generating systems and the policy community. Since 2009, ACED works to build connections between action, research and policies in the food security and environment sectors, ultimately to improve the livelihoods of vulnerable populations in Benin.
As an organization, ACED has effectively supported policymakers and researchers in generating evidence that is demanded and utilized by both policymakers and practitioners. Successes have been noted in various food security sub-sectors such as inland fisheries1, agricultural entrepreneurship2 and urban agriculture3. To upscale this approach, ACED championed the launch of the Evidence-Policy-Action (EPA) Network. The EPA Network was initiated as a response to the lack of a functional platform that connects the evidence-production systems and the policy/practitioner community. Such dialog space is needed to (i) guide research on issues of interest for policymakers and practitioners, (ii) inform the private sector on innovations and facilitate the discovery–product transition, (iii) provide policymakers with inputs for more evidence-informed policies, and (iv) facilitate the uptake of research results and its mainstreaming into programs and projects. This helps break the existing information silo and connects the various relevant stakeholders for more integration and efficiency.
A recent policy dialogue organized by ACED with local governments clearly showed the disconnect between policymakers and evidence generators. For example, the Mayor of So-ava, a municipality in southern Benin, complained that they know when researchers are in the city to collect data, but they never know "what results are produced and what are the policy recommendations". It was also generally observed during the policy dialogue that among all participating local governments, none of them mentioned the use of research findings in decision-making. Data from the national statistics institute was the only source of evidence mentioned and many technical officers confessed they do not have the necessary skills to analyze and interpret data. These anecdotal facts point to the need of establishing a functioning platform between the two worlds: evidence generators and evidence users. This is what the EPA Network is all about and there is a growing interest among stakeholders to join the network and advance the EPA agenda. The EPA Network will advance the utilization of evidence in designing policies and implementing interventions. It takes a further step by focusing on not only policymaking but also implementation so that evidence is effectively mainstreamed into action.
During 17-18 October 2019, the EPA Network jointly with ACED, the University of Abomey-Calavi, Benin, the Amsterdam Centre for World Food Studies, and with funding from the Netherlands Organization for Scientific Research (NWO4), will organize the EPA Forum 2019. It aims to:
Communicate research findings and other types of evidence to policymakers and practitioners;

Exchange ideas on how evidence can be mainstreamed into policy and action;

Identify opportunities for collaboration that help policymakers express evidence needs to researchers.

Connect researchers/inventors with investors and facilitate the transition of research from laboratories and research stations to markets;
The EPA Forum 2019 will focus on the theme: "Utilizing Evidence to Improve Food and Nutrition Security in Urban Areas". Through the EPA Network, ACED will continue multi-stakeholder consultations to identify and prioritize actions that can build the culture of evidence use among policymakers and practitioners. Therefore, we are calling all interested individual and organizations to join the network and help us advance evidence use in policy and practice in Benin.
You can register to the EPA Forum 2019 at this link. You can also join the EPA Network by following this link. If you are interested to work with the EPA Network, please contact the Secretariat at contact@epanetwork.org.
The views expressed in published blog posts, as well as any errors or omissions, are the sole responsibility of the author/s and do not represent the views of the Africa Evidence Network, its secretariat, advisory or reference groups, or its funders; nor does it imply endorsement by the afore-mentioned parties.